Surf Team Tryouts - January 17
Team tryouts will be held Saturday, January 17 at 11:00am at Atlanta Street in Wrightsville Beach. Make sure you have paid your club dues, completed the swim test, and turned in your waiver before the tryout. You can complete the swim test at the campus recreation pool, and download your waiver here.
Congratulations Scholarship Recipients!
Congratulations to Josh Albert, Cody Beitel, Cobi Christiansen, Michael Casper, Tristen Harbowy, Misty Mangiacapre, Airlie Pickett, Alex Rockrise, Nick Rupp, and Emily-Rose Szejk on being awarded the Tower 7/WBlivesurf Scholarships for 2014-2015! Many thanks of appreciation to Tower 7 Baja Mex and WBlivesurf for their support of student surfers!!!
UNCW Surf Team wins NSSA Easterns!
Congratulations to the UNCW Surf Team on winning its sixth consecutive consecutive NSSA East Coast Regional Championships! Nick Rupp, the team's captain, also won the coveted Men's College division at the competition.
Lumina News!
Surf Fest a Success!
Check out the coverage of the Surf Club's Cape Fear Surf Fest held on March 22 at the north end of Carolina Beach. Thank you to all of our sponsors and supporters! More info ...
Congrats Alexis Goss and Misty Wilbanks!
Alexis Goss, Surf Club Treasurer and team member, along with fellow club member and graduate student, Misty Wilbanks, have been awarded the 2013 Marsh Scholarship from the ESA! More info ...
UNCW Surf Team fifth at Nationals!
Congratulations to the UNCW Surf Team placed fifth at the 2013 NSSA National Interscholastic Championships at Salt Creek Beach in Dana Point, CA, on June 17. Nick Rupp, the team's captain, won the College Men's division while Alek Rockrise, the club's President-Elect, placed fifth in the College Longboard division. Congratulations team! Check out the article on Nick Rupp in the StarNews!
UNCW Surf Team Wins NSSA Easterns!
Congratulations to the UNCW Surf Team on winning its fifth consecutive NSSA East Coast Surfing Championships! Congratulations to teamers Shane Burn (1st, Mens), Nick Rupp (2nd, Mens), Cobi Christiansen (6th, Mens), and Alexis Goss (6th, Womens). Double shakas to President-Elect, Alek Rockrise, on winning the longboard division!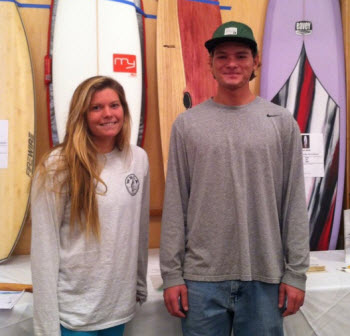 Cameron Paul and Alek Rockrise helping out at the Hope From Helen silent auction. December 5, 2014. Photo: Jo Pickett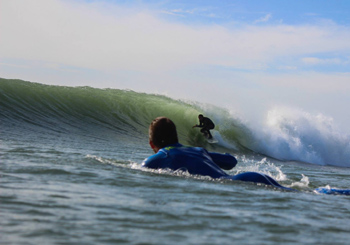 Tristen Harbowy scores a pre-holiday barrel while taking a break from final exams. December 2014. Photo: Jake Zlotnick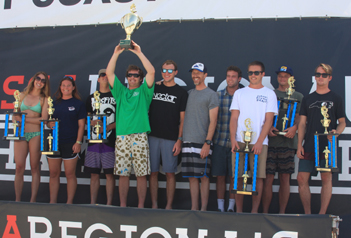 Alek Rockrise enjoys the benefits of executive privilege being President
of the UNCW Surf Team wins its sixth consecutive NSSA East Coast Championships. April 2014. Photo: Jo Pickett