Club News:


(archived news)
Check out the new Shane Burn video!
Sick new video featuring team rider, Shane Burn!
Chandler Hatch joins Surfline!
Congratulations to Chandler Hatch on joining Surfline as a local pro photographer. Check out his profile.
Congratulations Scholarship Recipients!
Double shakas go out to Michael Casper, Chandler Hatch, Tristen Harbowy, Darsha Pigford, and Misty Wilbanks on being awarded the Tower 7/WBlivesurf Scholarships for 2013-2014! Many thanks of appreciation to Tower 7 Baja Mex and WBlivesurf for their support of student surfers!!!!
Congrats Alexis Goss and Misty Wilbanks!
Alexis Goss, Surf Club Treasurer and team member, along with fellow club member and graduate student, Misty Wilbanks, have been awarded the 2013 Marsh Scholarship from the ESA! More info ...
UNCW Surf Team fifth at Nationals!
Congratulations to the UNCW Surf Team placed fifth at the 2013 NSSA National Interscholastic Championships at Salt Creek Beach in Dana Point, CA, on June 17. Nick Rupp, the team's captain, won the College Men's division while Alek Rockrise, the club's President-Elect, placed fifth in the College Longboard division. Congratulations team! Check out the article on Nick Rupp in the StarNews!
UNCW Surf Team Wins NSSA Easterns!
Congratulations to the UNCW Surf Team on winning its fifth consecutive NSSA East Coast Surfing Championships! Congratulations to teamers Shane Burn (1st, Mens), Nick Rupp (2nd, Mens), Cobi Christiansen (6th, Mens), and Alexis Goss (6th, Womens). Double shakas to President-Elect, Alek Rockrise, on winning the longboard division!
Congratulations to Gene Walsh!
Congratulations to Gene Walsh for his winning design for the new UNCW Surf Club t-shirt.
AV Surfboards:
Check out AV Surfboards! They're handmade by the club's very own Alex Velit!
Pilot Surfboards
Check out fresh video of Sal Serpe shaping for his label, Pilot Surfboards.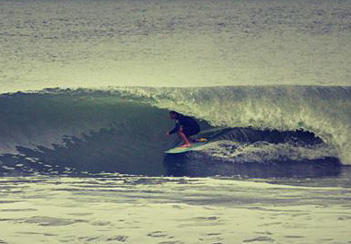 Alek Rockrise enjoys the benefits of executive privilege being President
of the UNCW Surf Club. Photo: Tyler Weeks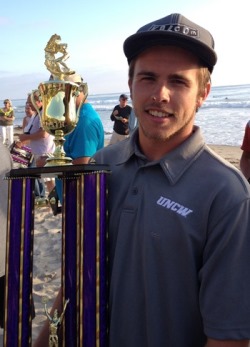 Nick Rupp, 2013 NSSA College Men's National Champion!
Photo: McNamara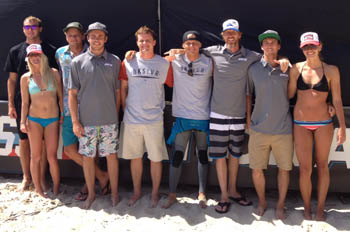 UNCW Surf Team at NSSA Nationals 2013! Photo: McNamara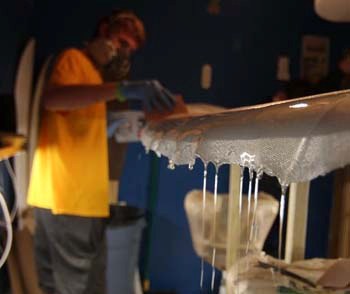 Club member Alex Velit, laying down some fine glass work
on a fresh shred sled, December 2012. Photo: Evan Netsch