Congratulations to Team Sweetwater!
April 11: Congratulations to Team Sweetwater on winning the Mid-Atlantic competition at Jennette's Pier qualifying them for the Oakley Surf Shop Challenge National Chamionships at Lower Trestles. Michael Casper and Justin Parr represented the Surf Club on the team. Way to go, ripper dudes!
Surf Team places 2nd at NSSA Easterns
April 2-3: Congratulations to the UNCW Surf Team on placing 2nd at the NSSA East Coast Regional Championships held over the weekend of April 2-3 in New Smyrna Beach, FL. It was a hard fought competition with the team falling to the University of North Florida by 1-point!
Flight Coffee
Check out Flight Coffee the next time you're in downtown Wilmington. This is the newest venture by Surf Club alums and entrepreneurs, Ben and Michael Powell.
Sunday at Churches
Check out the video, Sunday at Churches, by current member, Cameron Paul, featuring alumni member, Alek Rockrise.
Physics of Surfing
Check out the trial course, "Physics of Surfing" (PHY 292) being offered by Surf Team coach, Dr. Dylan McNamara.
Congratulations Scholarship Recipients!
Congratulations to Shane Burn, Michael Casper, Tristen Harbowy, Anita Harrington, Misty Mangiacapre, Darren Meyer, Cameron Paul, Airlie Pickett, Nick Rupp, and Zach Valenti on being awarded the Tower 7/WBlivesurf Scholarships for 2015-2016! Many thanks of appreciation to Tower 7 Baja Mex and WBlivesurf for their support of student surfers!!!
Congratulations Shane Burn!
Double shakas to Surf Team captain, Shane Burn, on being awarded the UNCW Surf Team Scholarship for the 2015-2016 academic year. Feel the burn!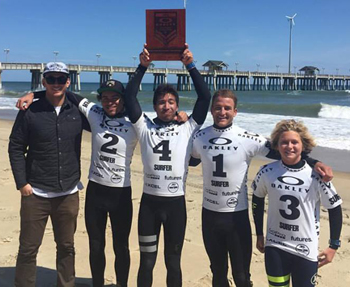 Team Sweetwater at the Mid-Atlantic qualifier at Jennette's Pier for the Oakley Surf Shop Challenge. L-R: Spencer Lem, Dylan Kowalski, Michael Casper, Justin Parr, and Owen Moss. Photo courtesy: Michael Casper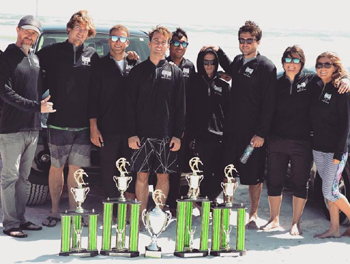 Cameron Paul and Alek Rockrise Congratulations to the UNCW Surf Team on its 2nd place finish at the NSSA East Coast Regional Championships.
Photo courtesy: Michael Casper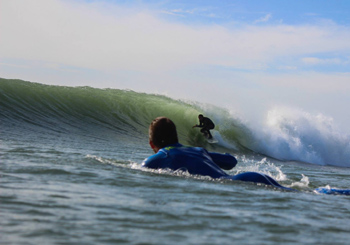 Tristen Harbowy scores a pre-holiday barrel while taking a break from final exams. December 2014. Photo: Jake Zlotnick