UNCW Women's Lacrosse
Join Club
We're glad you're interested in the UNCW Women's Lacrosse Club! This student organization is affiliated with UNCW's Sport Club Council, is funded both independently and by the Student Government Association, but (most importantly) is run by students, for students.
In order to join the club officially, you will need to turn in the following forms at the next practice.
Student Waiver (if under 18, has to also be signed by parents!):
Go to www.uncw.edu/sportclubs
Click "Forms/Manuals" in the left-hand menu
Under the "Home Events" Menu in the center of the site, click "Waiver." You can use the PDF or Word Document format.
After you have completed the waiver (if you are under 18, your parents will have to print out, sign and send you the last page!), print it out and bring it to the next practice.
Copy of your
UNCSea Student ID Card
and a copy of your
Insurance Card:
If you do not have your insurance card, ask your parents to scan it in and send it to you, like they would a picture. Just make sure your policy numbers are visible.
If you have your insurance card but do not have a scanner, the best place to make copies on campus are the back of Randall Library where the vending machines are (you can use your flex dollars, copies are .10cent each) or Dittos, next to the mailboxes in Warwick, because they take cash. Don't forget to copy your ID Card!
If you have any First Aid or CPR Certification, it would help the club if you turned in a copy of those certificates.
You cannot practice officially, participate in games or travel until you have turned these in!

Reminder:
New members
must submit required paperwork
before
they can practice!

Click here for more information...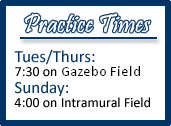 Directions to Intramural Field